Electric Starters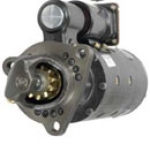 Our electric starter inventory covers an extremely large spectrum. Delco Remy units such as the 28MT and 42MT are some of our most popular units. Bosch, Nippondenso, and Leece Neville starters are also kept in-house to cater to our construction and rental equipment customers.
We also keep on hand a very large assortment of marine starters. Applications range from Cat and Cummins marine engines to several board motors manufactures.
Other popular units include starters for everything from forklifts to Ford diesel p/u trucks.
| BOSCH | LUCAS |
| --- | --- |
| 0-001-362-305 | M45 |
| 0-001-223-002 | M50 |
| 0-001-223-016 | M127 |
| MITSUBUSHI | VALEO |
| --- | --- |
| M1T60081 | |
| M3T90071 | 184202 |
| M8T50072 | TM000A28901 |
DELCO
5MT
29MT
41MT
10MT
30MT

42MT

25/27MT
37MT
PG200
28MT
40MT
PG260
DENSO
128000-0545
228000-6471
128000-7751
228000-6532
128000-9980