Hydraulic Starters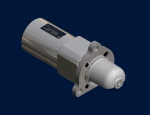 Kocsis Technologies, Inc. is the world market leader in the manufacturing, engineering, and marketing of hydraulic engine starting systems. Their hydraulic starting products are found throughout the marine, oil & gas, and chemical industries. As a factory supported distributor, Roy Supply stocks a wide variety of their products. We keep several starters, pumps, valves, and many other Kocsis items in stock. Our hydraulic starter inventory consists of units to fit many Detroit Diesel, Cummins and Cat engines. The Kocsis factory also supports us with an extremely large variety of "hard to find" starters for many different applications keeping costly down time to a minimum.
Key benefits of Kocsis Technologies, Inc. hydraulic engine starting systems
Fully lubricated starters result in longer life and greater reliability in unforgiving environments.
Elimination of electrical connections and the availability of beryllium copper gears results in spark-proof starting.
Hand pump option allows for limitless starting attempts.
As an authorized distributor, product support will be available from Kocsis Technologies, Inc. engineers.
B Series (CMA)
CMA-308002-B
CMA-308006-B
CMA-308008-B
CMA-308154-B
CMA-308303-B
CMA-308148-B
CMA-308024-B
D Series (CMD-3A)
CMD-2A-111
CMD-3A-121
CMD-3A-209
CMD-3A-214
CMD-3A-221
CMD-3A-236
CMD-3A-252
CMD-308246